Late last year many Canberrans enjoyed the food and music at the annual Indonesia festival held at the Indonesian Embassy in Yarralumla. This annual festival brings a taste of the diverse food, music, culture and traditions of the many different people who live in the Indonesian archipelago that comprises of over 13,500 islands (of which about 6,000 are inhabited).
Many Australians only think of Bali or Java when they think of Indonesia, unaware of the hundreds of languages and many distinct cultures and local cuisines and traditions in the world's fourth-largest country. It is truly one of the fascinating multicultural melting pots of the world and if you're interested in history, cultures or languages, represents a treasure trove right on Australia's doorstep.
It has always puzzled me why more Australians don't enjoy Indonesian food. Perhaps they don't realise what we have on our doorstep, a multicultural feast of never-ending surprises and delicious mouth-watering pleasures.
But if you can't get to Jakarta easily, where is the best place in Canberra to try authentic Indonesian food? And where is Canberra's best Indonesian restaurant? In Canberra, you can enjoy Indonesian food at four different restaurants, two of which are run by the same family.
If you ask native Indonesians where the best authentic street-style Indonesian food is in Canberra, the first suggestion is usually Asian Food Mart. It's a small takeaway between the BWS and the butcher inside the Kippax shopping centre in West Belconnen. The seating inside the shop is very limited but there are usually a few spare tables just in front of the takeaway.
The best #Indonesian restaurant in #Canberra is at Kippax fair, it's called Asian Food Mart #loveCBR pic.twitter.com/F2wqsFP1ow

— Shinta Benilda (@ShintaBenilda) April 19, 2015
The best advice is to ignore most of the fried offerings in the bain-marie and choose a dish from the printed menu (below). All the fried food is great, particularly as an entree, but the gems are on the written menu. That said, I usually get some of their delicious hand-made spring rolls and fried chicken wings as an extra treat for me or the kids.
At my last visit, I chose the most expensive dish on the menu – the $15 Soto Betawi! Soto Betawi is a native Jakarta dish, and sometimes it's simply known in English as Jakarta beef soup. It is basically a beef soup made in a laksa-style coconut soup with a side of rice, chilli and crunchy condiments such as fried shallots. You can see I ordered some fried chicken wings as well – couldn't resist!
In Indonesian food, Soto is a term used for many different types of soup originating from across the country – and just about every region has their own version of soto. Soto Betawi originates from the Jakarta area of Indonesia. Betawis are the original people from the region of the island of Java, which is now the same region that makes up greater Jakarta.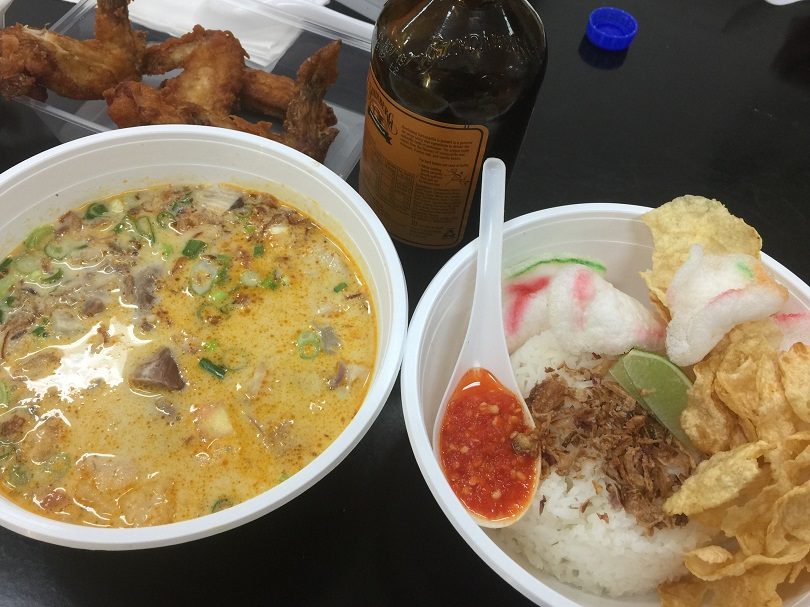 My kids usually order their favourite, Mie Ayam (chicken noodles) at Asian Food Mart in Kippax (photo at the top of this article). But there is so much to try on the menu you have no reason to eat the same dish twice.
My second most regular choice for Indonesian food in Canberra is Indo Cafe. The same lovely family who runs one of the larger food stalls at the annual festival at the Embassy also runs the Indo Café at the Waldorf on London Circuit and also run the similarly named but much larger food outlet in the Canberra Centre Food Court. The food tastes great and it is authentic and fresh. They also run stalls at numerous markets around Canberra, including the Handmade Markets!
My choice for dinner @Handmademarket in #Canberra tonight is easy thanks to the presence of #IndoCafe! I love an Indonesian style curry. #ChickenOpor #BeefRendang pic.twitter.com/U2AP8asg1A

— CBR foodie (@CBRFoodie) December 8, 2017
The third option that I have tried for a regular Indonesian restaurant is the Balinese Restaurant Sanurs on the Belconnen foreshore at Emu Bank. Sanur's is the more expensive option of the three Indonesian Restaurants mentioned so far but it is a proper restaurant with table service and a full comprehensive sit-down menu. Sanur's would be my suggestion if you have already tried the delicious food at Asian Food Mart and Indo Cafe but were after a nice romantic venue to take your better half on a special date.
Also, next November, take a tip from another local expert on Indonesian cuisine and purchase a few extra takeaway containers at the Indonesian festival to enjoy at any of the numerous picturesque picnic spots that dot the lake and nearby suburbs of Canberra. (BTW if you're on twitter and want to follow a couple of amazing Indonesian connoisseurs in Canberra then you should follow Erna Glassford (aka @SimplyCheecky) and Shinta Benilda.)
Heaving at the Festival Indonesia in #canberra. Crowds flocking to see the ambassador singing! Found only one stall selling vegetarian food, heaps of vegetarian fritters. Amazing satays! And I'm happy with our choice of picnic venue to enjoy the food 🇲🇨❤️😋 pic.twitter.com/v0r4WIM3Xh

— Shinta Benilda (@ShintaBenilda) November 25, 2017
As diverse as Indonesia is, its people are bound by a strong nationalism and respect for cultural traditions. The love of multicultural food is one of the many things that bind the vast majority of Indonesians together as a nation. If you would like to learn more about Indonesia through its cuisines, I recommend listening to this National Public Radio interview about Prawnche Ngaditowo who is an Indonesian Instagrammer who blogs in English and is known online as "foodventurer." Ngaditowo is of Chinese descent, but he grew up in the Indonesian city of Medan, where his father was a prawn farmer (hence his name).
If you'd like to connect with the Indonesian community in Canberra you should follow the Embassy on Facebook and Twitter and get along to the numerous multicultural festivals and opportunities we often have in Canberra, to make the world a smaller and happier place.
Elias Hallaj (aka CBRfoodie) is a part-time food blogger and full-time political staffer who has joined RiotACT as a regular contributor. All his opinions about food are his own, except where he has borrowed them from facebook, google, instagram and twitter. If you have any tips or feedback or advice about any Asian cuisines, or other exciting things to eat around Canberra you can add a comment below or find him most nights on Twitter @CBRfoodie.
Original Article published on the RiotACT.