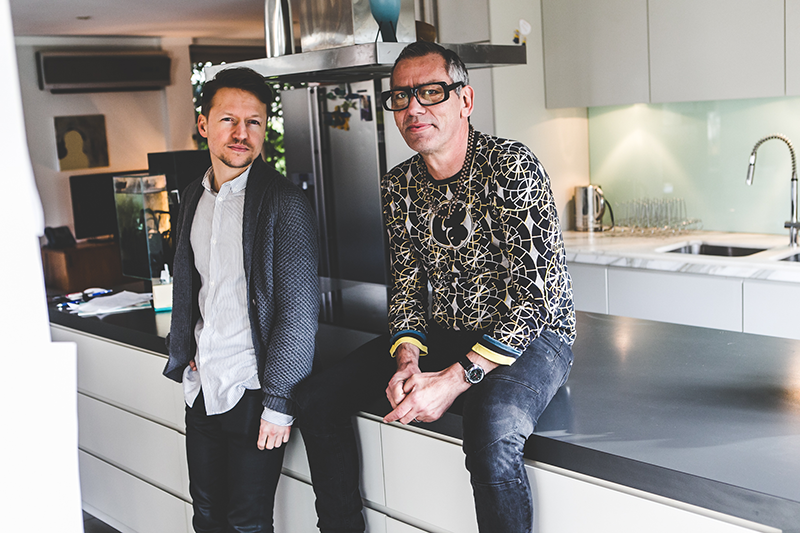 Is it wrong of me to say that I often think of Adam Noble, the owner of Next Hair in Braddon, as Canberra's own Mick Jagger? You have to admit he has the style of a classic rock star, albeit without the attitude. In fact his attitude is quite the opposite.
When he talks to you, he really talks to YOU. He comes in close and pays attention, making you feel like the most interesting person in the room. And it's this attitude that he imbibes in his salon that has people coming back for more.
I found the experience of going to his superb home in Garran a bit like meeting a rock god, without the trashed hotel vibe. There were interesting things in every corner and on every wall, all brought into harmony through years of experience, an eye for aesthetic and a curiosity for the eclectic.
Adam's home has art on every wall, there are original chairs ranging from mid-century through to the 90's, impressive floor lamps and a dining table that once belonged in the boardroom of the Reserve Bank. I couldn't get enough of the trees, shrubs and plants surrounding the house in the artwork-laden garden. While our photographer, Ben, was fixated on some kind of gigantic bug in the kitchen.
After leaving Adam's home, I felt enriched by his gallery of interesting art and curiosities while also, strangely bereft at the absence of his attention. You can tell I'm an only child right? But that's ok, I'm pretty sure I have an appointment next week so the team at Next Hair can work their magic on my three strands of angel hair.
Photos: Ben Idris
Words: Ashley Feraude