Spring has arrived in Canberra. Blossoms cluster thickly over the cherry tree branches and drift softly through the warm breeze. Crowds throng Floriade to marvel at the colourful blooms and new life is flourishing everywhere you look.
Out at Alpaca Magic, it's no different. This spring they have already welcomed a baby alpaca, a baby donkey and several baby llamas to the fold.
"They are so cute," says Glynda Bluhm, the proprietor of Alpaca Magic.
On Sunday, 27 October, Glynda will open the farm to the public for Alpaca Magic's Spring Open Day. Visitors can get up close to the farm's new babies and learn more about these fascinating creatures.
Discover everything you ever wanted to know about camelids (alpacas and llamas). What makes them spit? What do they like to eat? What noise do they make?
Llamas are warm, egocentric, and curious. They adore being looked at and admired, but their natural curiosity can cause mishaps. Glynda remembers how one llama liked to lean way over the fence to get a drink from the koi pond. The pond had a lower water level than usual, and the llama overbalanced, doing a forward roll right over the fence and into the pond. It took ages to get her out and, as a result, pool gates now encircle the koi ponds.
Glynda never meant to get involved with alpacas or llamas.
"I just went to Murrumbateman Field Day to buy a whippersnipper," she laughs. "Somebody was selling alpacas, and I saw the one in the pen and thought it was the most beautiful thing I'd ever seen. White with blue eyes. So pretty, like a Disney character."
Glynda experienced initial disappointment when her alpacas didn't interact or bond with her like her other livestock. Alpacas are reserved, aloof animals that prefer to observe from a distance. After some research, Glynda learned that llamas are much more people-friendly.
Now over 200 alpacas and llamas, along with donkeys and miniature Galloway cattle, populate the 250-acre farm in the rolling hills of Sutton.
"I get called Llama Mama, Mrs Magic, Llama Whisperer," Glynda chuckles.
What is the difference between an alpaca and a llama?
Glynda explains, "The alpacas see you and move away. The llamas see you coming and come over to meet you."
At Alpaca Magic, the llamas are the ones who interact with visitors. "They often grow to stand 6 ft tall and can look intimidating when they come for a scratch or a pat. But they are very gentle. I love them to pieces."
Over 2,000 people came through Alpaca Magic's gates on their last open day.
Glynda couldn't do these events without her small army of devoted volunteers. Some travel down from Sydney to attend.
"It's a big day. A lot of people come, a lot of photographs get taken and there are a lot of big smiles."
The highlight is meeting and cuddling the camelids. "It's a wraparound experience," Glynda says.
While the open day is free, bring some cash and a generous spirit along.
Sutton's Rural Fire Brigade organises the event's parking and the Lions Club runs a sausage sizzle. Local businesses run stalls on the day and the farm sells unique llama souvenirs.
Glynda's first priority, as a farmer, is the wellbeing of her precious animals. Parents must monitor their children at all times around the animals. Running at the llamas or alpacas will terrify them and in their stampede to get away, they can inadvertently kick out. Chasing the animals is not tolerated.
On the open day, many visitors fall in love with the llamas and alpacas and they want more.
Good news! The farm offers close-up encounters throughout the year.
Morning is the best time of day to get the most out of these interactive experiences, as camelids are morning creatures.
In the Llama experience, everyone gets paired with a llama and they go for a stroll together. "People love it!' Glynda promises.
Breakfast with the Alpacas and Llamas is the farm's biggest seller. Feed the camelids treats, then enjoy a complimentary BBQ breakfast.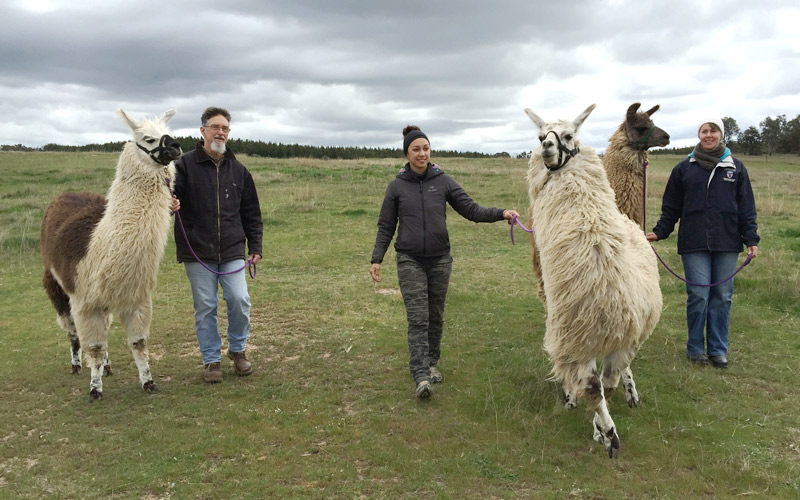 A stroll with a llama.Alpaca Magic is located at 2771 Sutton Rd, Sutton. Look for the aqua fence line!
The Spring Open Day is on Sunday the 27 October between 11:00 am and 3:00 pm.
Contact Glynda via email or Facebook or book an event or workshop directly through their events calendar.
Original Article published by Michelle Taylor on The RiotACT.