What originally started as a fun novelty project between friends has turned into a growing small business that offers Canberrans an authentic taste of Sicily.
The story of the Sicilian Biscuit Company (SBC) began in 2018 when three coffee-loving lads (Adam, Dave and Luke) wanted to find something simple and satisfying to have with their morning coffee.
Adam's dad is Sicilian, Dave would regularly bring back Sicilian sweets from visiting his in-laws in Sydney, and Luke's market-going experience as a garlic farmer gave the three an idea.
The idea was to bring some 'Sicilian Sweetness' to the thriving Canberra market scene.
"We're passionate about our Sicilian heritage and the wonderful ability food has to transport you to the other side of the world! A simple taste or smell can bring back memories of amazing experiences, people and places," said Adam.
"Sicilian sweetness is unique in so many ways but, in many ways, is immediately recognisable. Whether it be granita, gelato, arancini or a humble bite-size almond pastry known as pasta di mandorla, the food of Sicily is the product of centuries of stories and, being Canberra born and bred, we love being able to share that with our local family and friends."
With a solid plan and bucketloads of inspiration, now all they had to do was master traditional Sicilian biscuit baking.
"The recipes are classically Sicilian and handed down from generation to generation. We're passionate about authenticity and being true to the origins of our products. There are thousands of traditional recipes from Sicily, so we always have a chance to experiment with new products and we're pretty sure we'll never run out of amazing new flavours to play with!
"We're extremely fortunate to have a talented baker/pastry magician in Sophie, who's juggling the final stages of a Law degree with creating and selling the most delectable handmade Sicilian creations every week!" shares Adam.
Originally from Bathurst, Sophie has had a love of baking since she was a child. When the opportunity came up through a mutual friend to join the SBC family, to explore the enchanting world of Sicilian Sweetness and share its delights with the local community, she jumped right on board.
The best sellers at the markets are the Pasticcini. Bite-sized almond-based pastries with endless flavour combinations.
"Classic Amaretto is always a winner, while Pistacchio and Limone are regular favourites. Caffe can be polarising, but they're perfect for those who love a true caffeine hit. As my Papa often says – they're 'a shot of espresso in a biscuit!' The fact that they're all also gluten and dairy-free is a pleasant surprise to many!" said Adam.
As the business has grown, Dave and Luke have stepped away from the day-to-day running due to work demands so Adam has taken over. Along with his family members, he continues to bring a taste of Sicily to Canberra.
On any given weekend, you can find him with a smile on his face and a pastry in hand at the Southside Farmers Market, Canberra Region Farmers Market at EPIC and at local events like Handmade Canberra.
"We've also started a foray into the wholesale scene, to try to share Sicilian Sweetness with the broader Canberra community. Our packs are now regularly in stock at Ainslie IGA, O'Connor IGA and Chifley Grocer. You can also get a special Sicilian treat when you visit our stylish friends at Meki Hair and Lexi Bannister Hair!" shared Adam.
As for the future, Adam has his hands full on all fronts, home, business and work.
"With a full-time 'real job', a transition to coaching from a lifetime of playing soccer, and an amazing family consisting of a wonderful wife and two energetic girls (almost 2 and almost 5), time is in slightly short supply!" he said
"Right now, we're pretty busy just trying to keep up with the demands of being a small business owner and loving being part of the local Canberra market community! We'd love to make SBC even more of a permanent fixture in the Canberra community – there are so many other secrets of bella Sicilia that we'd love to bring to our family and friends through the joys of good food, made with love and delivered with Sicilian style!
"Down the track, if there's an opportunity to share Sicilian Sweetness with a wider audience, we definitely think there could be a home for SBC in any city in the world! A Sicilian Biscuit Boutique …. a Sicilian Biscuit Bar … Sicilian Beer Company?! Who knows! The possibilities are endless!"
To find out more about the SBC, including the markets they'll be attending, visit the Sicilian Biscuit Company.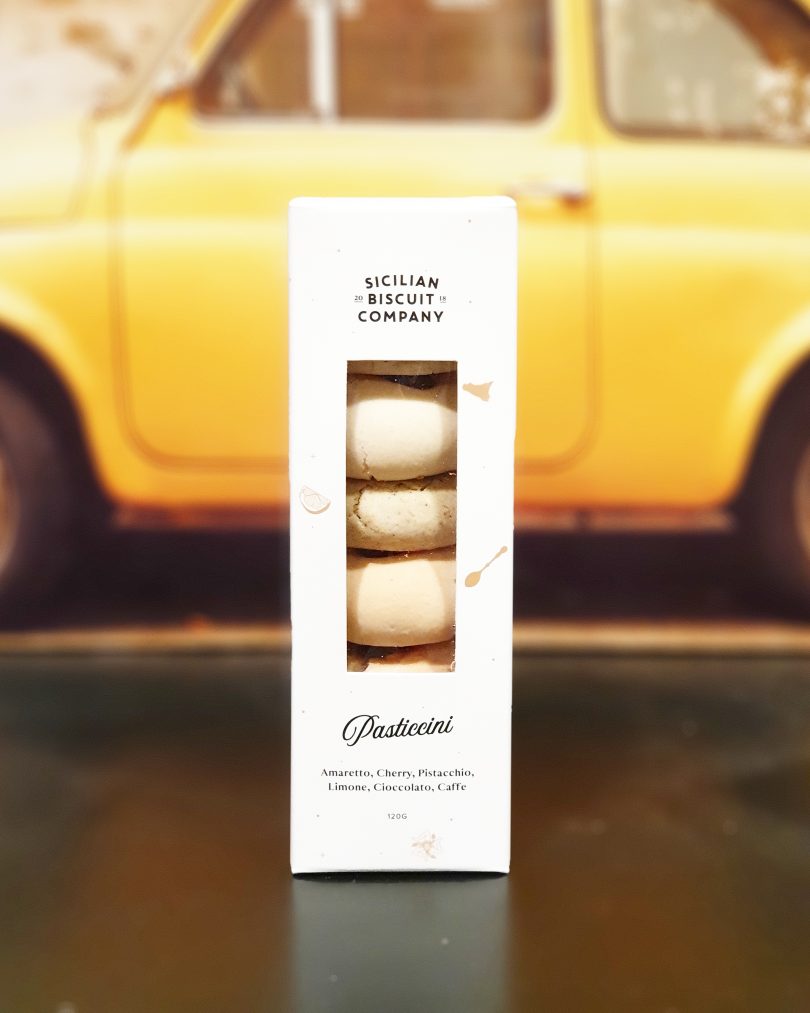 Original Article published by Sophia Brady on The RiotACT.