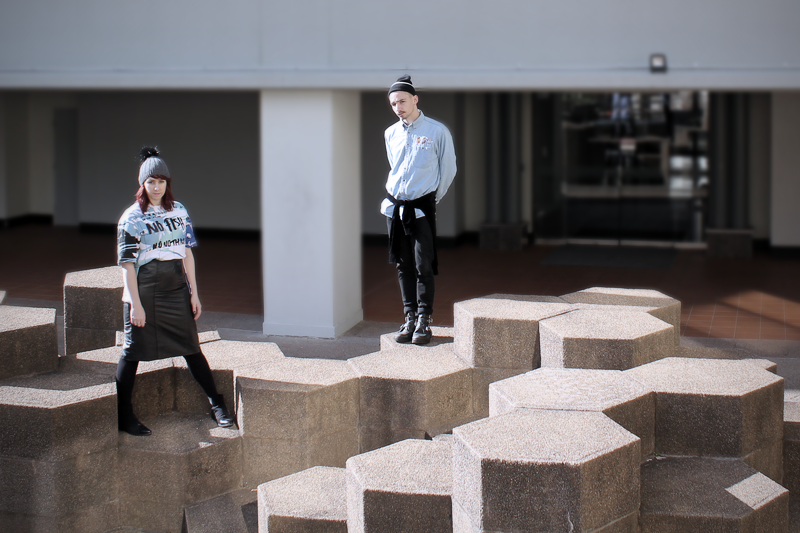 Have you ever noticed that those people with the most enviable personal style don't dress head to toe in any one designer? They mix and match between designer, high street and vintage to create looks entirely their own. Kate Moss does this better than anyone. She practically invented this approach to dressing in a modern context. But lets face it; we don't all have Kate Moss's fashion connections or bank account. So how can the every day Canberran start to build a wardrobe of clothes unique to them?
James wears: Op Shop Find of denim shirt ($10) with Nobody Jeans, Topman beanie, Jeffrey Campbell boots and Topman socks. Emma wears: Op Shop Find of Leather pencil skirt ($40) with Kenzo top, Kenzo boots and Country Road beanie.
The cheapest and easiest way to add an individual element to your wardrobe is by integrating vintage pieces. And luckily for us Canberra is by no means lacking in Op shops and charity shops. We know because we have compiled a directory of every single one of them just for you. These sorts of shops have long been the favourite haunt of students, hipsters and bargain hunters looking for cheap, unique pieces. But don't be intimidated; Op shops are the perfect place for both men and women of any age to find something different to the mainstream offering in Shopping centres and boutiques.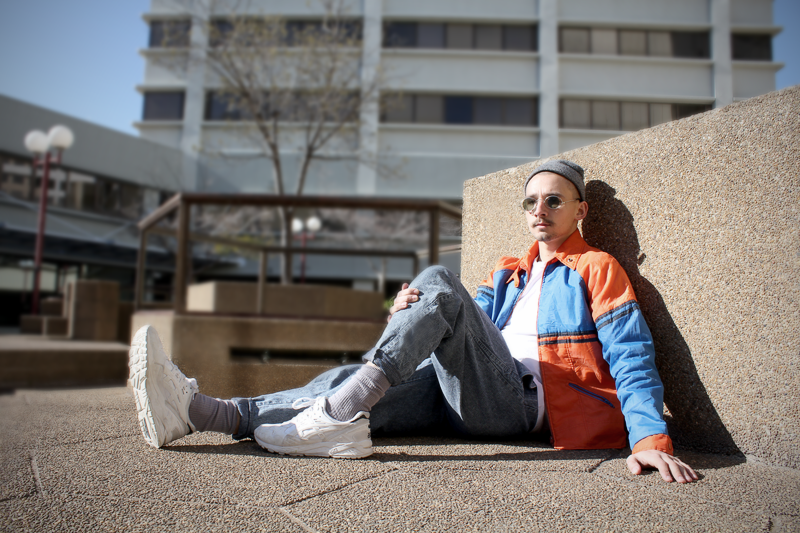 James wears: Op Shop Finds of Jeans ($1), Jacket ($10) and sunglasses ($15) with American Apparel top, Asics trainers and Uniqulo socks.
If you are looking for something specific in an Op shop you are likely to be disappointed. Op Shopping is for finding things you never knew you wanted. It is about trying anything and everything and being pleasantly surprised with what you come across. You shouldn't necessarily aim to build an entire outfit of Op shop pieces (although depending on the era the clothing dates from and their quality this can sometimes work), rather Op shop finds work best as hero pieces, mixed in with your existing wardrobe.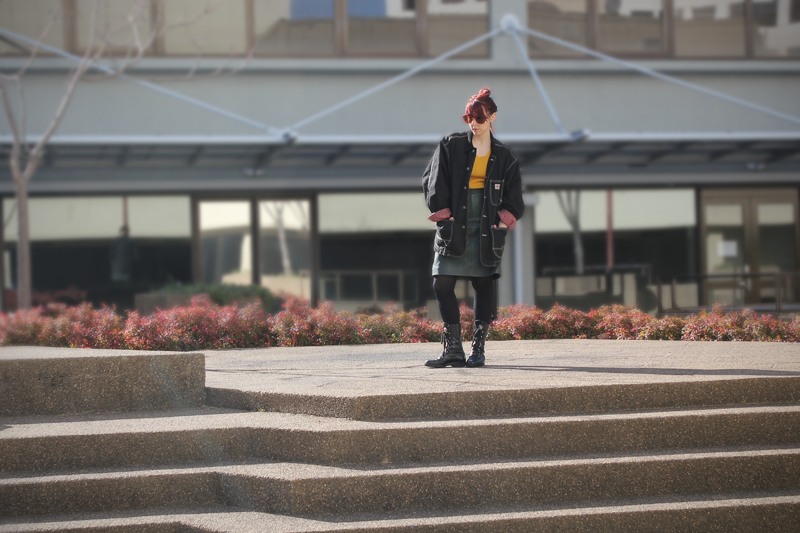 Emma wears: Op Shop Find of men's denim coat ($30) with vintage Chanel vest and Versace Boots from Claire Inc, Topshop leather skirt and Miu Miu sunglasses.
Consider these tips while Op shopping:
Look for unique fabrics, cuts and colours. Fabrics like leather, wool, tweed and brocade last really well and op shops are a great place to pick them up cheap. Also look for bold cuts, bright colours and patterns. Even if they aren't current, when mixed into your wardrobe with pieces that are on trend they can elevate your outfit making it different to that of everyone else.
Look in a different section. Look in the men's section if you are a woman, particularly for jeans, pants, jumpers and coats. Women's fashion constantly borrows from the boys and with the rise in popularity of unisex dressing, by not considering the 'gender' of a piece you effectively double your options. Same goes for men, don't be afraid to try ladies cuts in unisex pieces like jeans or pants.
Try a different size. This really only works if you try something a few sizes too big. Don't try and squeeze into something too small. Oversize shapes are graphic and eye catching but aren't for the faint of heart. Also make sure to balance an oversized element with something more fitted; an oversize jumper with a pencil skirt, or an oversize coat with a tapered jean. The key is not to look like you are swathed in a giant ball of fabric.
Look outside your comfort zone. An Op shop is the perfect environment for experimenting with your look in an affordable way. Try anything and everything even if you think it may look ridiculous, as you may very well be surprised with what you see. An outrageous piece can always be toned down with all black and if you aren't brave enough to go with a full sequined dress say, try a sequined clutch. Op shops are a great place for unusual accessories, which can dress up any existing outfit you have.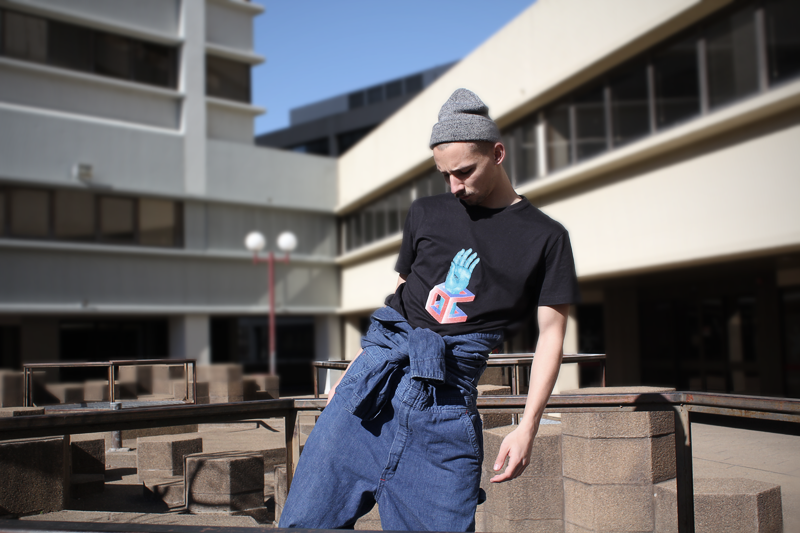 James wears: Op Shop Find of denim overalls worn as jeans ($25) with Opening Ceremony top and Topman beanie.
With current fashion designers mining previous decades for inspiration all the time, a look from every era is almost always in style. This means it is still possible to be a slave to current fashions while buying vintage and second hand pieces. By approaching current trends this way not only are you looking hot, you are breathing new life into something old and being good to the environment. In our current world of fast fashion this is no bad thing.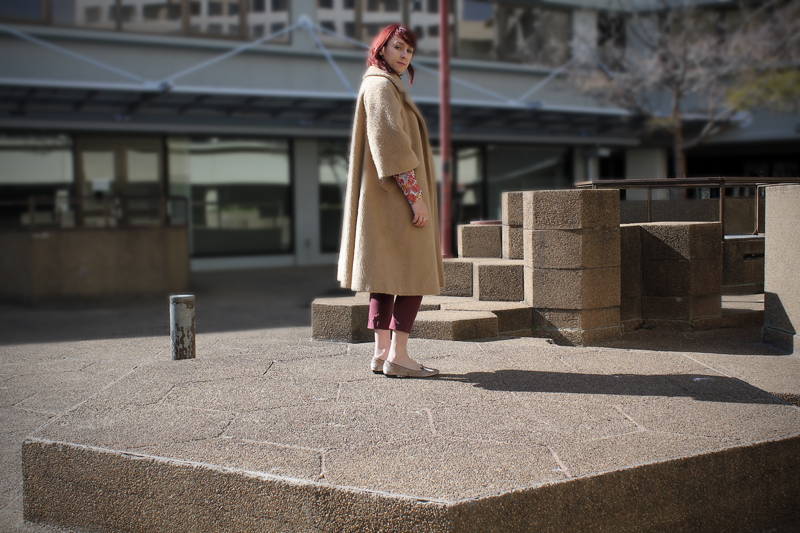 Emma wears: Op Shop Find of '50s mohair swing coat ($120) with Karl Lagerfeld blouse, Sportsgirl pants and Charlotte Olympia shoes.
SEE THE FULL LIST OF CANBERRA OP SHOPS
Photos Emma Batchelor, James Batchelor, Jesse Petrie.
Styled by Emma Batchelor
Models Emma Batchelor, James Batchelor