The grass is damp underfoot as John begins unfolding tables and setting chairs out, readying for the day ahead at On Lake Cafe. The crisp spring morning dawns cautiously after yesterday's battering of storms and gloom. Then the sun peeks out through the clouds and John declares: "Sunshine means people will be out walking. It's going to be a good day."
The antithesis of every polished, social media-savvy, millennial cafe owner in his neck of the woods, John wears his 76 years like a badge. His battle to make the lakeside cafe a reality has been arduous, exhausting him emotionally and financially. The stress of the past few years has embedded itself deep into the lines of his face.
Back in 2016, John sold up the successful coffee cart he ran on weekends, happily anticipating a few months' holiday before he began his new café adventure. What followed were frustrating years, years spent navigating a maze of red tape. Even when he eventually received the green light to begin construction, new obstacles presented themselves. A dodgy builder saw the three-month job stretch beyond 18 months, forcing John to take over the building himself to get the job done.
When COVID-19 struck, John just added it to the list of bumps in the road – albeit one he could navigate.
"COVID probably helped me," he says. "At the beginning, everything was closed while places regrouped. People had nowhere to go. But our food was already takeaway-friendly and we were ready to serve."
On Lake Cafe now welcomes dine-in customers to enjoy coffee and Greek street food with lakeside views. Set in Bowen Park, not far from where Brodburger's original food van once operated, On Lake Cafe's deck looks out across Lake Burley Griffin and the mountains beyond. Sip your coffee and watch life on the lake unfold. The location is a great meeting point after a walk. There is plenty of parking, toilets are close by and pets are welcome!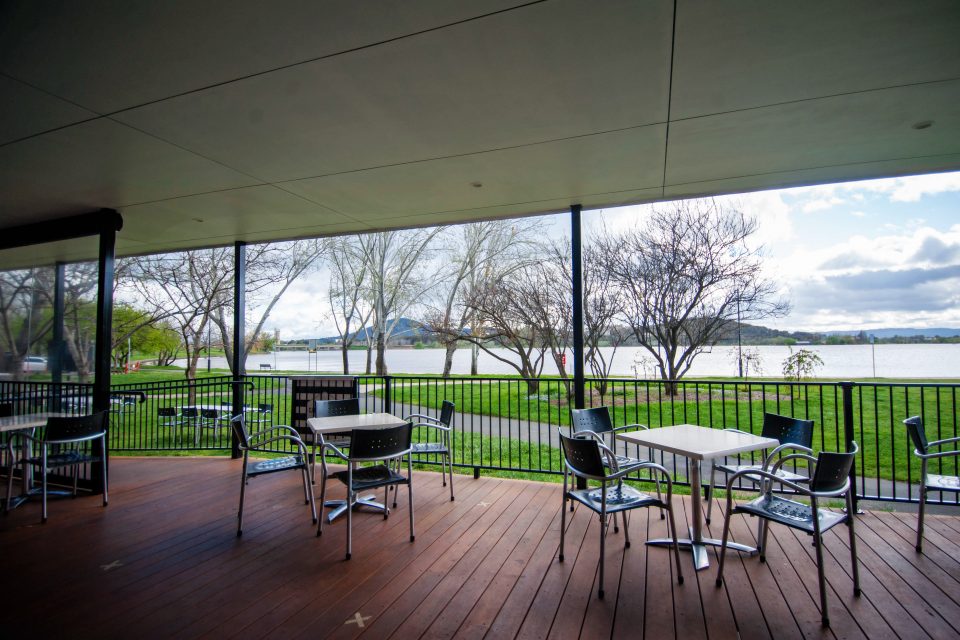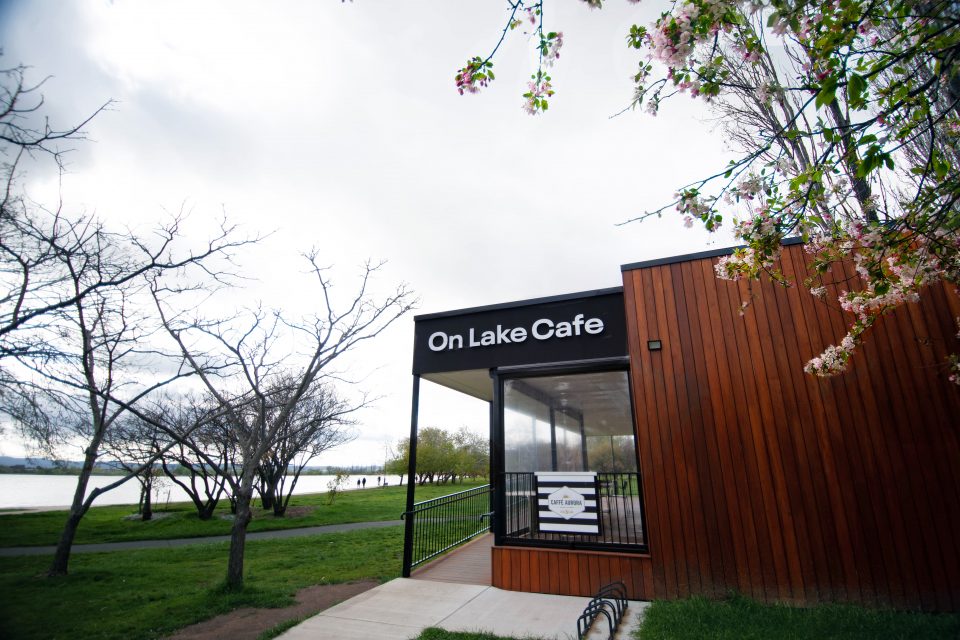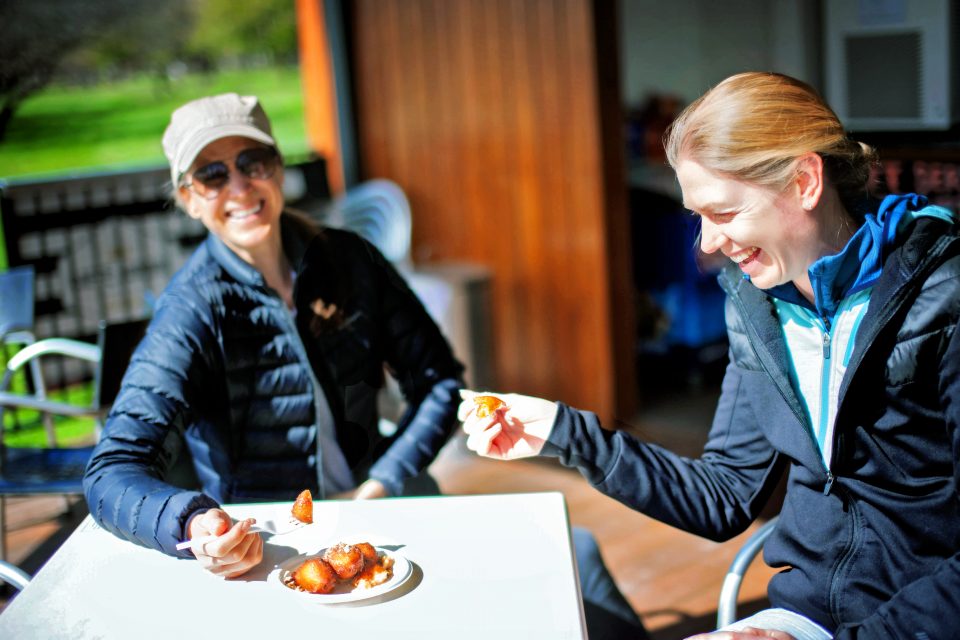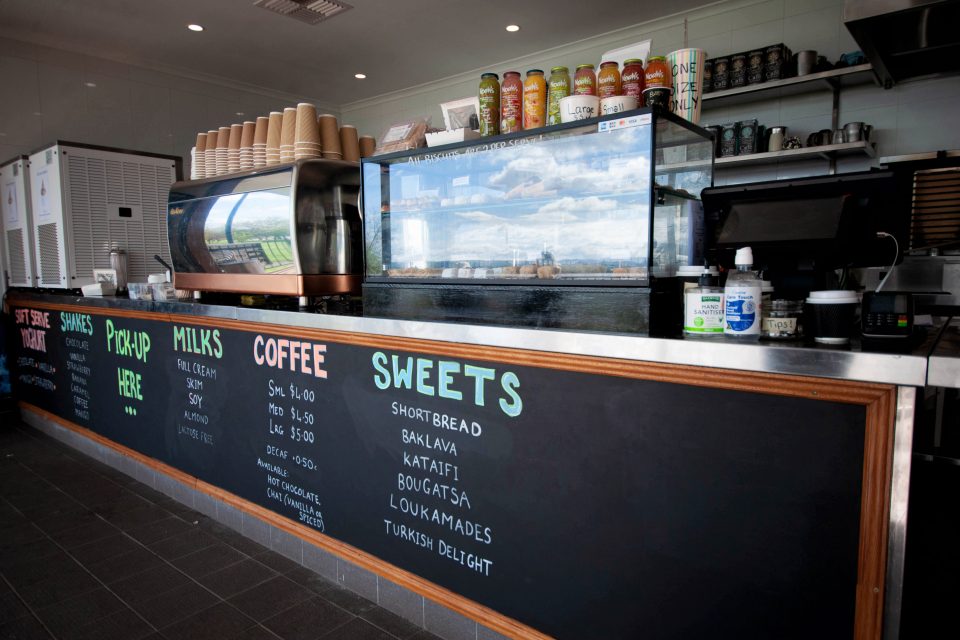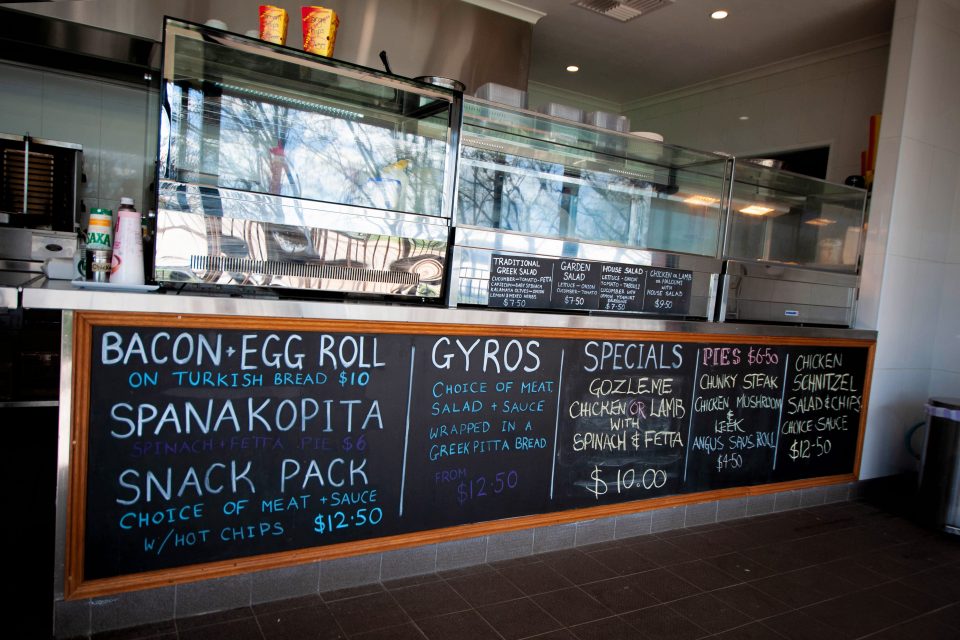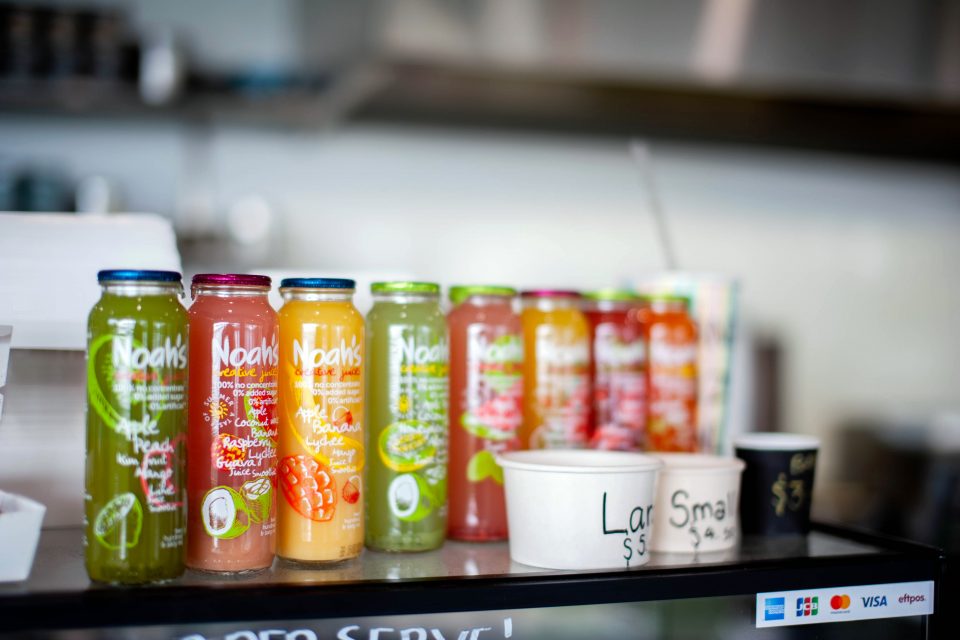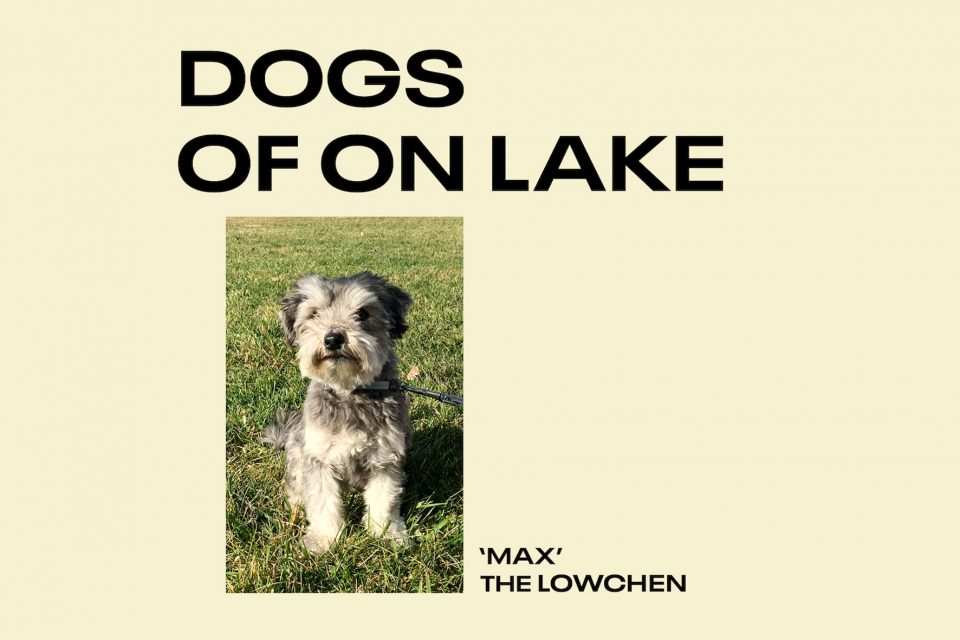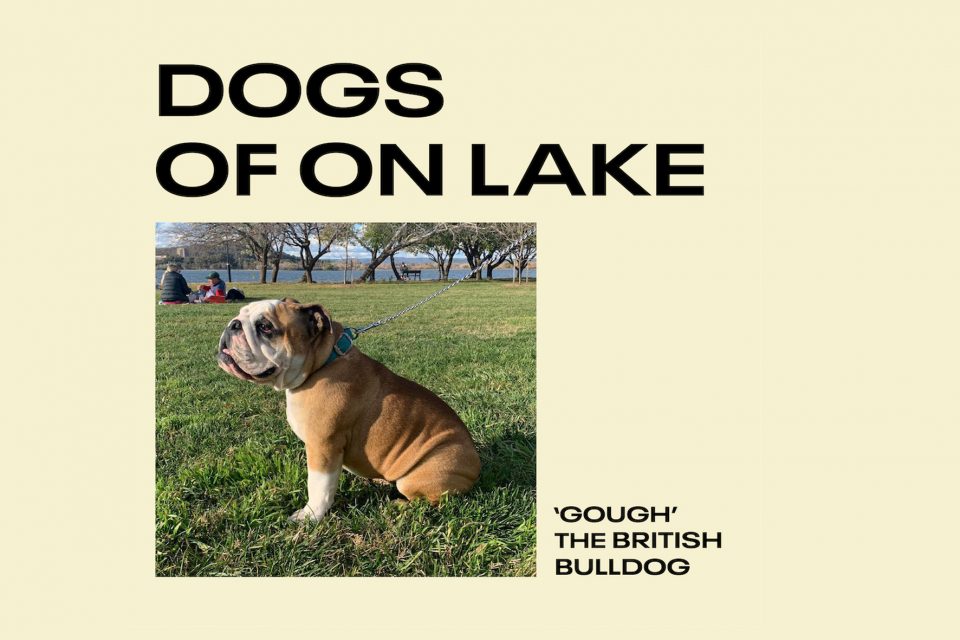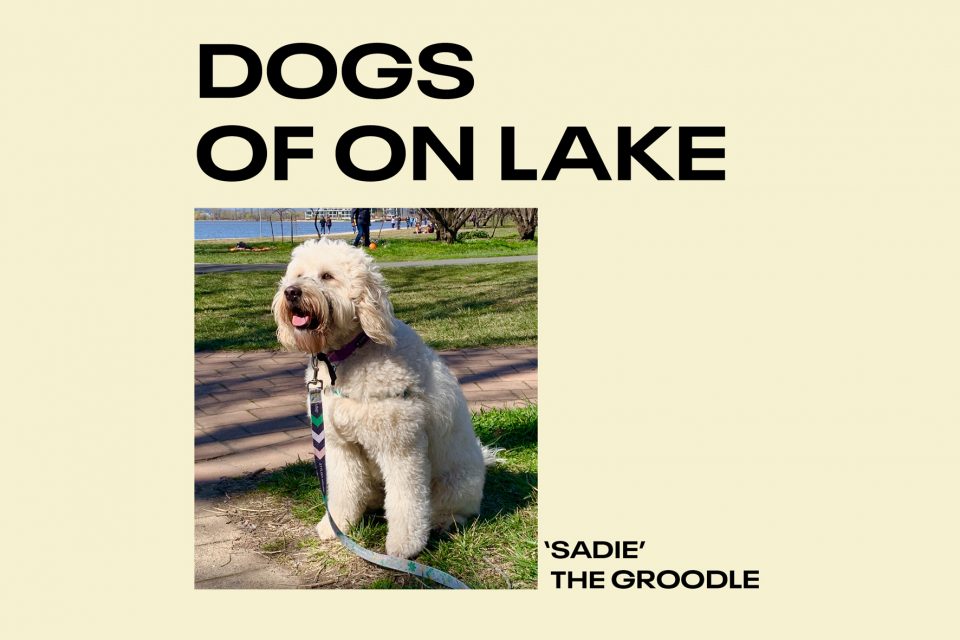 Yanni Pounartzis, who's responsible for the On Lake Cafe branding, says "it's the first cafe on the lake and something Canberrans have been craving for decades".
"The area is perfect for dog lovers to enjoy a coffee with their best friends. It's not just people who enjoy visiting On Lake Cafe; dogs enjoy it too. The array of breeds who visit have provided an opportunity to feature them in an online campaign on FB and Instagram. This is not only a fun campaign for dog lovers, but it also communicates that dogs are welcome. Our campaign features each dog posing proudly, along with their names and breed."
The chalked menu offers authentic Greek street food, sweet and savoury, along with some Aussie cafe staples. Of course, gyros are front and centre!
"The gyros is so versatile," John says." You can turn it into so many meals. We make open gyros too, plus spanakopita and gozleme. We also serve chicken schnitzel, and a popular bacon and egg roll."
John plans to add Greek-style fish to the menu: generous fish portions that are double-floured, then fried.
"It is healthier than battered fish and delicious."
I order a gyros for breakfast, with a plate of loukoumades on the side.
My open lamb gyros plate has seven pieces of pita bread, along with fresh salad, cheese, juicy marinated lamb, tzatziki and hummus. The wide crunchy chips send my healthy diet into disarray by being so irresistible. The open gyros is tasty and photogenic, I would recommend ordering a regular rolled up gyros to get all those delicious flavours in one mouthful.
This is my first experience of loukoumades and these are fresh and hot. They're golden-fried puffs of sweet dough, dense with cinnamon-scented syrup and topped with walnuts bits. I take a bite, and the syrup that has soaked into it fills my mouth with a sweet fragrance. Scrumdiddlyumptious!
On Lake Cafe is located at Bowen Park in Barton. It is open seven days a week from 8:00 am to 5:00 pm. Come for some Greek goodies and have your pooch featured on On Lake's Instagram and Facebook pages.
Original Article published by Michelle Taylor on The RiotACT.