It's almost a year since Matt Farrah launched his disruptor liquor retail model on an unsuspecting Canberra public and things are looking sweeter than a vintage port.
Conceived on a commitment to shake up a "broken" model that saw small producers of wine, beer and spirits struggle to compete for retail shelf space against bigger, cashed-up market players, Farrah's Liquor Collective is more than delivering on its promise.
The cavernous 2400 square metre Fyshwick warehouse Farrah snapped up last May to realise his dream is now a sea of wine bottles, many from vineyards little known to the average buyer – small-batch producers who've not had the marketing clout to get their products front and centre with consumers.
An eclectic mix of varieties from 100 vineyards is fertile ground for wine buffs looking for something different to show off at that next dinner party (when we're allowed to hold them again, of course).
The Farrah's Liquor Collective business model involves cutting out the middleman and expensive overheads and working directly with producers to secure stock at a good price. Savings are passed on to consumers while the makers are provided with consistent, high-visibility sales channels.
Matt's support for producers is also going a step further.
One of his most ambitious plans yet involves helping boutique winemakers break into new export markets.
He recently joined forces with the not-for-profit Agribusiness Regional Development Association through its federally funded Canberra Region Export Alliance (CREA) program. CREA aims to give Canberra Region fishers, farmers and food producers a voice in international markets by educating them on trade regulations and doing business with other cultures, as well as directly connecting them with buyers in China, India and Vietnam.
"CREA has the same interest I have in helping local producers," Matt says. "Beer, wine, spirits, smoked meats, truffles, cheeses … anything we produce here is highly sought-after in Asia."
Through CREA, Matt will offer his warehouse as a location to bring together Canberra Region producers for tastings, meet-the-makers sessions and trade delegations to build awareness of the quality of the region's food and wine.
He also plans to convert part of the warehouse into export premises to facilitate the sales of Canberra Region wines into Asia through the CREA.
"The alliance has excellent connections in these markets and this will be a cost-effective way for local producers to get their products over there safely, to get paid and to avoid prohibitive costs. And having everything aggregated in the one location will make things so much easier."
Having an advocate like Matt won't hurt either. Before coronavirus hit, Matt was running tasting sessions every Saturday and Sunday to introduce these lesser-known wines to the public.
"People love trying different wines but they're generally not given the chance," he says. "The floorspace we have in the warehouse means we can get these wines into people's mouths and show them how good they are. At first they'll say, 'Why is it so cheap? Is it no good?' Then they'll try it, buy a case and tell their friends.
"Our customers save a minimum of 50 per cent off on wines they buy from us," Matt says. "They love it and so do the producers."
Word of mouth is clearly having an impact. Just six weeks after launching an online store to complement the shopfront, digital sales account for almost 35 per cent of total revenue.
"We launched the site about 10 days before lockdown, so we have had a little bit of good luck there in that most people started shopping online due to the restrictions," Matt says.
The sheer size of the Townsville Street warehouse has opened up myriad other opportunities to fly the flag for the underdog.
Farrah's Liquor Collective currently stocks boutique beers from about 25 Australian brewers, but Matt has his eye on the big picture.
"My aim is to sell 1000 different Australian craft beers," he says. "There are currently about 660 craft brewers in Australia, a lot of them are ma and pa businesses or young entrepreneurs getting out there and having a crack. They'll find it extremely difficult to sell their products now that bars and restaurants are closed," he says.
"The major stores don't have any shelf space left. If I was a small brewer and walked into a traditional store and said 'I've got these 10 beers, can you put them on the shelf?' they'd laugh me out of the shop. But as well as giving craft brewers the shelf space, I can wholesale it for them, too. My aim is to get 200 craft brewers into the store and to sell six to 10 types of beer from each of them."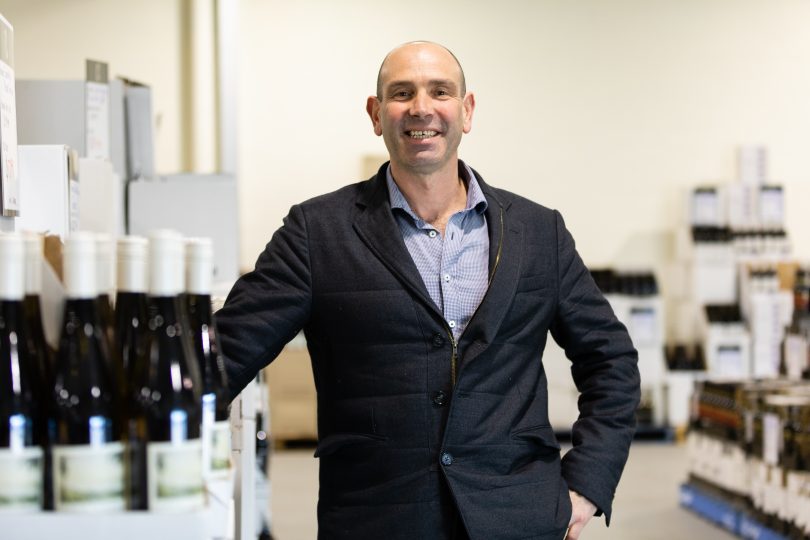 Matt says he's the calmest he's ever been.Despite the seemingly insurmountable workload ahead of him, Matt says he's "probably the calmest I've ever been".
"I believed in what I was doing. I knew so many producers were hurting and this is a pure feel-good model. We're helping people, there's no doubt about it," he says.
"It was a bit like Field of Dreams … I had that sense of 'if you build it, they will come'. And they did."
Check out Farrah's Liquor Collective's online store, offering free delivery to Canberra, Queanbeyan and Jerrabomberra.
To learn more about CREA, check out ardaaustralia.org.au.
Original Article published by Michelle Rowe on The RiotACT.