Grease Monkey has been flipping burgers, pouring beers, frying chicken and serving a range of tasty snacks at their Braddon venue since 2015. The popular burger joint launched their Gungahlin store in April 2020 and you can also taste their delicious burgers at Phillip and Stromlo.
They recently launched their Gorilla Filla all you can eat deal at their Braddon venue so if you're feeling like a Grease Monkey feast, you might want to head in and make the most of it while it's still available.
So, what's the deal? Well it's big and it's greasy but it's mighty delicious.
Your starting order includes a burger, chips, a single slice pizza, three jalapeno poppers, three truffle mac and cheese bites, one piece of fried chicken, one sauce and bottomless soft drink. It's $50 per person and everyone in your group must take part in the all you can eat deal.
To prevent wastage, you need to finish everything before asking for more. It's a pretty reasonable offer and if you're hungry, it's definitely worth it.
I'm a Grease Monkey fan and my weakness is the Greasy burger … and I always ask for extra seasoning on my chips. It's a simple but tasty burger: a beef patty, lettuce, cheese, onion, pickles, GM relish and Greasy's sauce. If you're a cheese and truffle lover, the truffle mac and cheese bites are a must-try.
They recently launched their supercharged happy hour too, so if you visit from 4:00 pm to 6:00 pm Monday to Friday you'll get 49 per cent off house alcohol and snacks. Tell me about a better happy hour deal in Canberra? I challenge you.
We recently visited just before 6:00 pm on a Friday so we made it just in time to score a few happy hour specials including a pint of Bentspoke Crankshaft for $6.35, a glass of Pinot Grigio for $3.92, jalapeno poppers for $5.10 and truffle mac and cheese bites for $5.10. Of course, we ordered a few Greasy burgers and a slice of the Detroit-style meatlover pizza.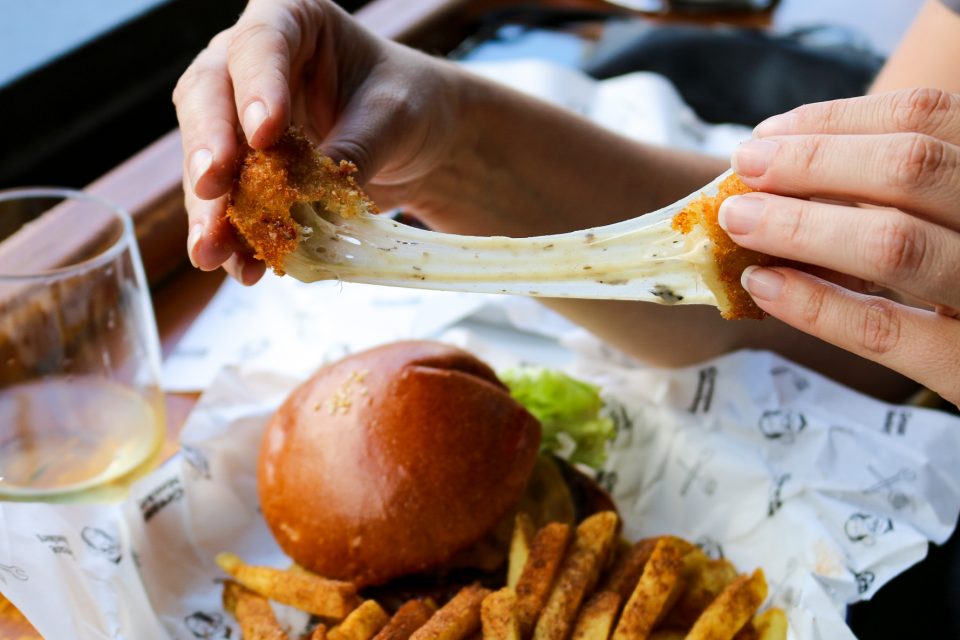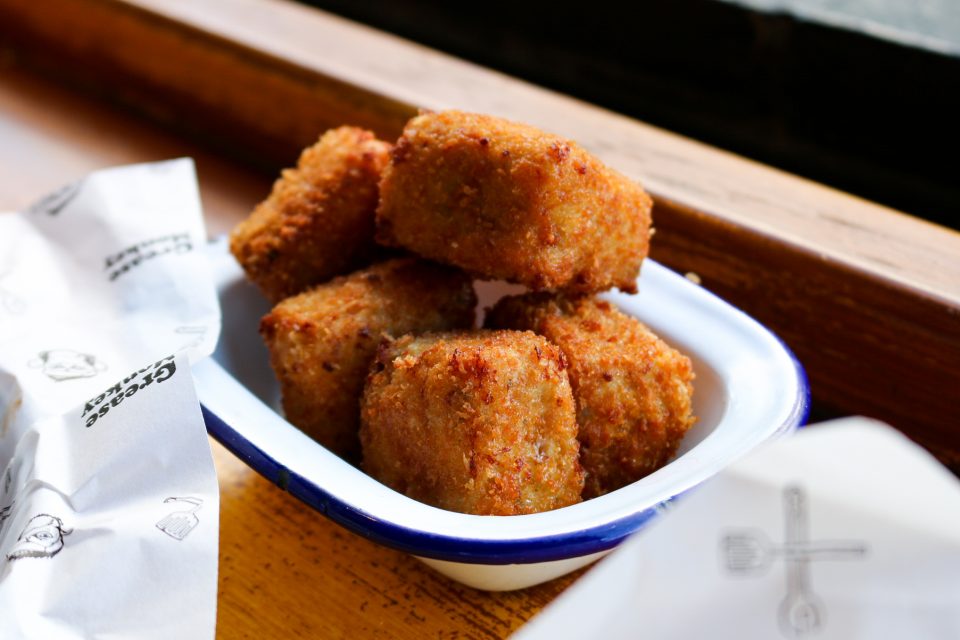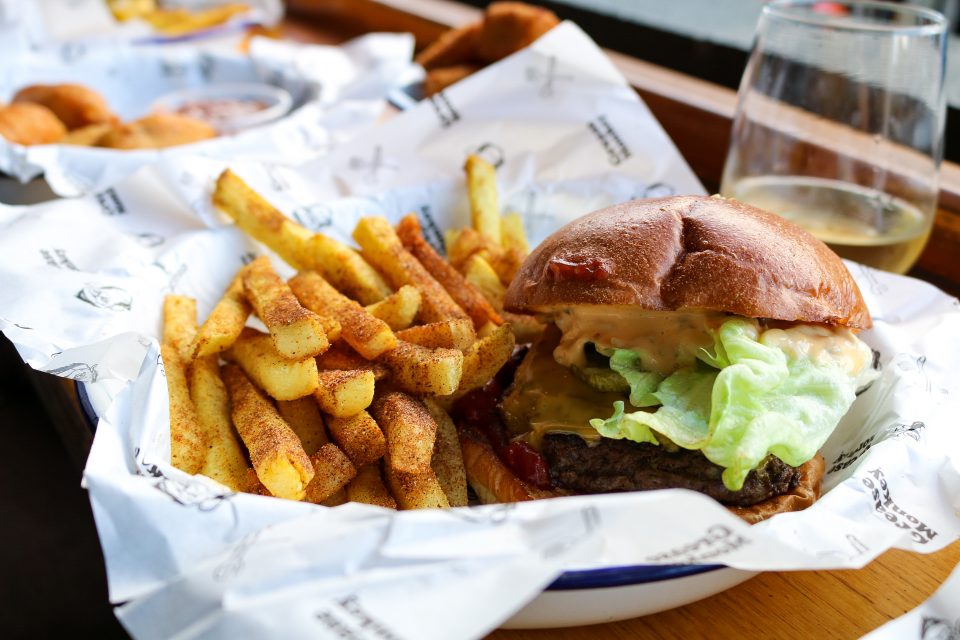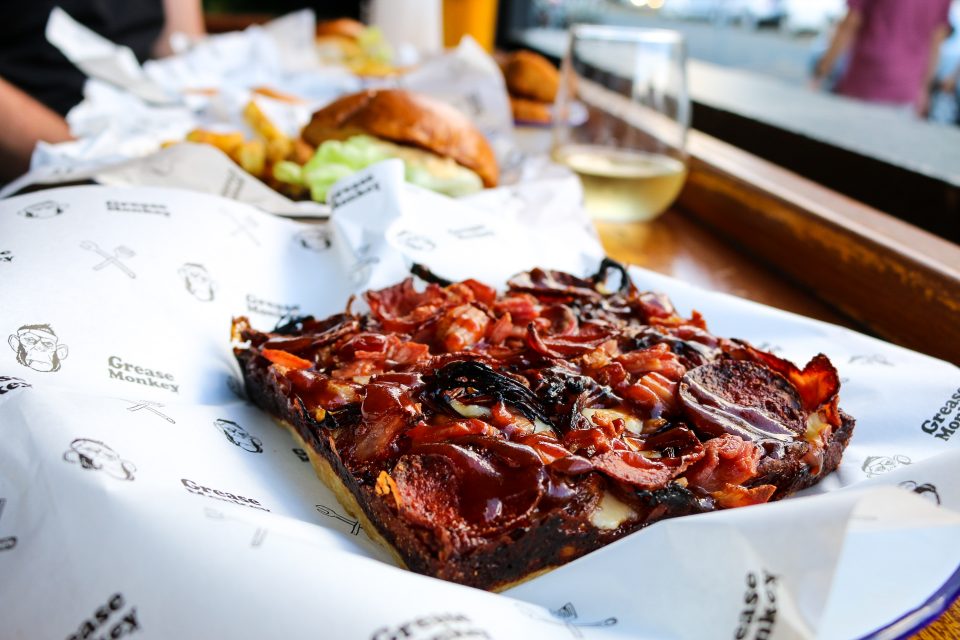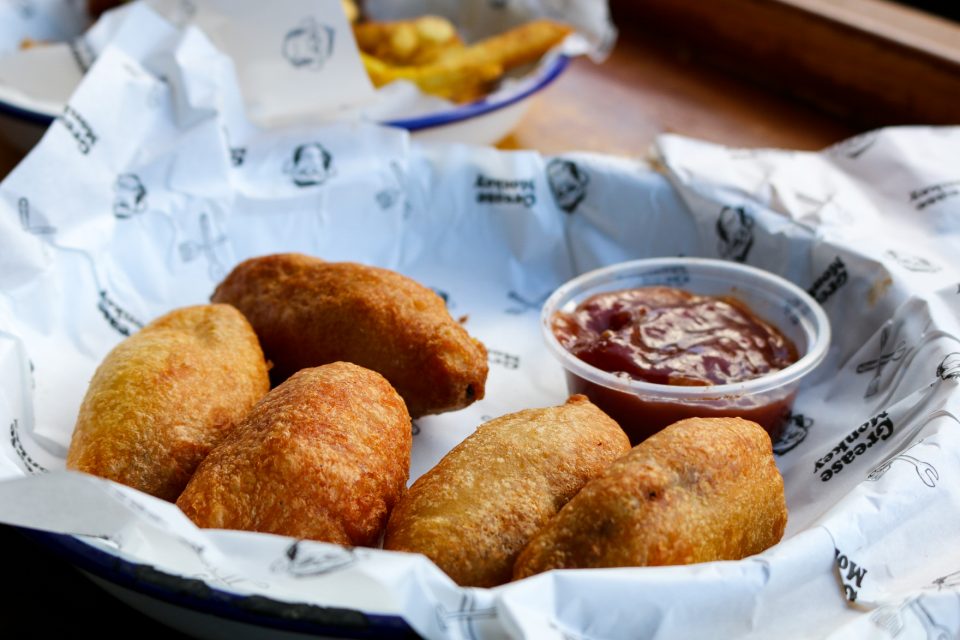 They unleashed their cheesy Detroit-style pizza (available in 3 sizes) in September 2019, not long after they expanded their Braddon venue to take over the space next door, previously occupied by fish and chips joint, Catch.
Their menu features lots of meat-based eats, but they haven't forgotten the vegans and vegetarians among us. There's a selection of meatless pizza, burgers and snacks, like the vegan cheeseburger spring rolls and the Nimbin burger with a crumbed Portobello mushroom as the protein.
They also have a monthly burger special. Other current offers at Grease Monkey include a free drink with a burger on Tuesdays and 50-cent wings before 5:00 pm Monday to Friday.
I didn't try the Gorilla Filla this time as I dined with my partner and we weren't as hungry as we needed to be to tackle the feast, but it's on our 'to eat' list and we'll be returning soon to give it a go because sometimes you have to treat yourself – and then do a day of exercise to work it off.
Grease Monkey is located at 19 Lonsdale St, Braddon and Shop 63/33 Hibberson St, Gungahlin. Grease Monkey is open at both locations from 11:00 am until late every day. You'll also find the Grease Monkey burger truck at 103 Hindmarsh Drive, Phillip. Check out their food truck Facebook page for current hours, and they're flipping burgers at Handlebar, Stromlo Forest Park, Dave McInnes Road on weekends.
Original Article published by Amelia Bidgood on The RiotACT.