The Brits may have a reputation for being a bunch of repressed prudes, but they are also quite eccentric, especially when it comes to their fashion. Case in point: You would never find a collection being shown on models making soggy sandwiches at any other fashion week. And this is exactly what happened at Molly Goddard's show this season.
At one point in time, London Fashion Week had become a bit of a blip on the fashion circuit with few designers able to show. Those days are well and truly gone as this year the British Fashion Council has given London Fashion week a new home right in the heart of Soho. Ongoing initiatives like NEWGEN and Fashion East allowed emerging designers to present on the show schedule playing a huge part in creating the distinct look and feel of London Fashion Week.
Bold colour, print and texture were a feature on the majority of the London runways. Pieces made up in moody metallic fabrics walked the runway at Preen by Thornton Bregazzi while clashing colours and geometric prints were seen on sleek silhouettes at Jonathan Saunders. Erdem revealed an unashamedly pretty collection of long, girly dresses complete with floral prints and flounces and a print-laden urban safari was seen at House of Holland. Roksanda Ilincic celebrated her 10-year anniversary showing her signature clean cuts in bold colours.
The dazzling collection by Mary Katrantzou, described as an 'exploration of exploration', saw dresses and separates made up in jewel toned sequins and brocades complete with exquisite embroidered flowers. Versace brought their sister line Versus to London this season. Creative Director Anthony Vaccarello unleashed another stand out collection working the house's signature sex appeal into dark coloured, body conscious pieces with attitude. Christopher Kane wowed with loose, almost neon bright pieces, heavily featuring lace, patchwork and fringing. Distressed denim and tonal dressing was seen at up and comers Marques Almeida, voluminous floral gowns at Emilia Wickstead and pretty pastel coloured dresses at Peter Pilotto.
Over the years London has become a hub for quirky accessories. This season Emma Hill (formerly Creative Director of Mulberry) launched her own accessories label Hill & Friends at a breakfast with adorable little cookies made into the shape of bacon, eggs and toast. The hero of her new collection is the happy satchel featuring the winking turn lock. Sophia Webster, shoe designer extraordinaire revealed a collection of must-have shoes themed around a 'Mermaid Laundry'. Anya Hindmarch showed a collection of bags with bold striped patterns inside a mirrored prism complete with dancers making a kaleidoscope of shapes. The inventor of the Kitty Cat Flat (my personal favourite shoe of all time; I have 5 different pairs) Charlotte Olympia released a collection entitled 'I married adventure'.
Here are a few of my favourite moments across the week accompanied by illustrations from the very talented Tessa of Mue's Muse.
Meadham Kirchhoff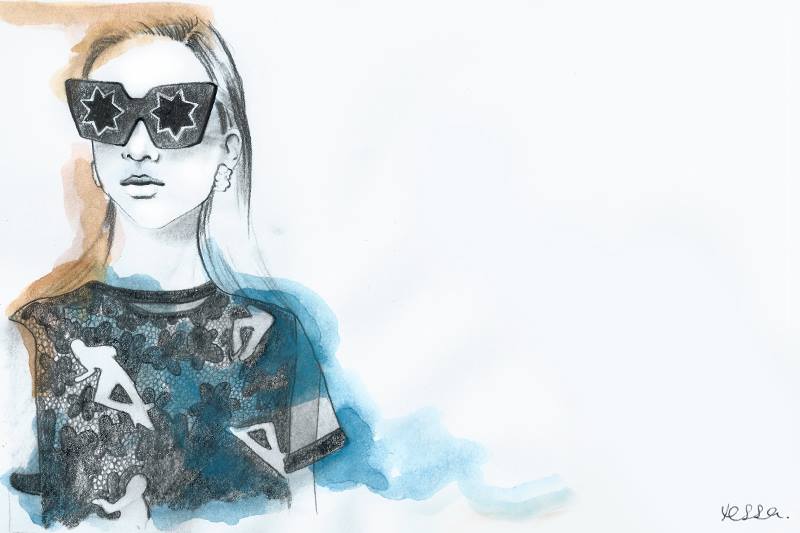 This season saw a departure from the more is more aesthetic we have come to expect from designers Edward Meadham and Benjamin Kirchhoff. Since founding their label in 2006 the pair have been known for theatrical runway presentations and iconoclastic designs. After rumours that the duo may have been calling it quits, Meadham Kirchhoff instead offered up a more refined and ladylike collection that was still full of the playful elements the brand is known for. Beautiful sheer black shift dresses, gauzy bomber jackets, and trousers all embroidered with flowers or Mexican wrestlers, chunky sandals and quirky eyewear featured, shown in a room with flowers growing up from the floorboards.
Simone Rocha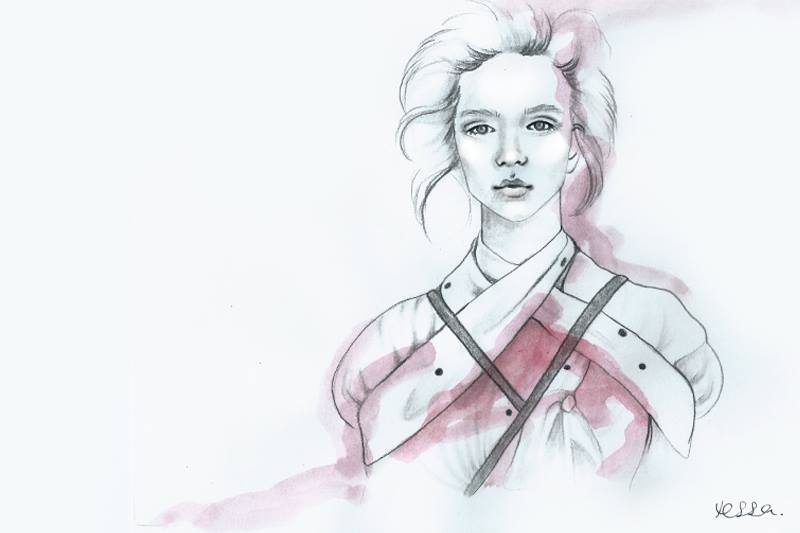 I cannot get enough of Irish designer Simone Rocha. Just ask my boyfriend; I haven't shut up about her since the first look went down the runway. This collection was the perfect mix of sweet and subversive while blending modernity with a hint of grandma. After a trip to Japan, Rocha married the inspiration of fresh moss with sleaze to create a stand out collection with a strong personality. Dresses, and separates in sheer, frothy fabrics featured ties and bows crossing or harnessing the torso, sometimes restricting the arms. The humble jelly shoe and her signature brogue provided the perfect contrast grounding each look. With her first store now open, and her show one of the hottest tickets on the circuit, the fashion star of Simone Rocha has well and truly risen.
JW Anderson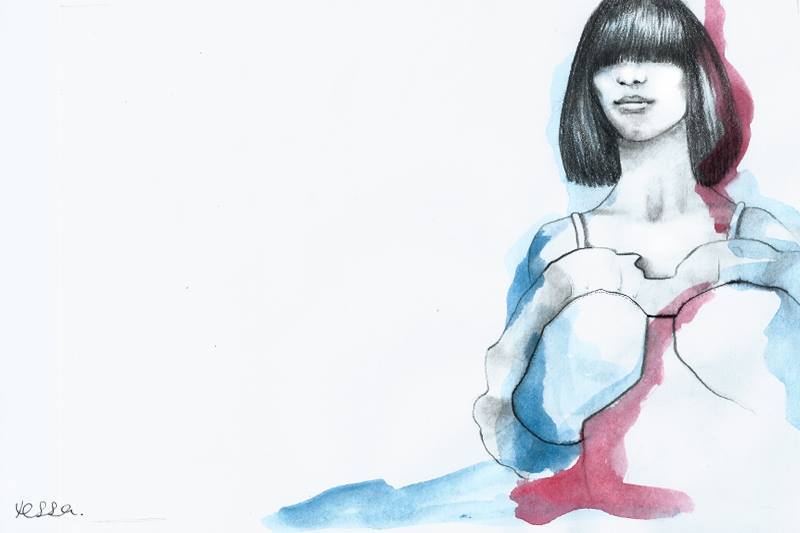 This critically acclaimed Northern Irish designer has been often described as visionary and last year he was picked up to head Spanish house Loewe in addition to his namesake label. This season saw JW Anderson continue to channel the '80s however it was in quite a different way to his previous collection. Leg o'mutton sleeved pieces adorned with Keith Haring inspired squiggles went down the runway alongside teeny tiny bras, mannish tailoring, slip dresses and lace cycling shorts. The use of fabrication was innovative and had an element of tromp l'oeil; some frabrics looked like leather while leather was made to look like rubber. It will be a woman very sure of her self who will take on these pieces in the real world but safer, watered down versions will no doubt make their way onto the high street for the less brave of heart.
Topshop Unique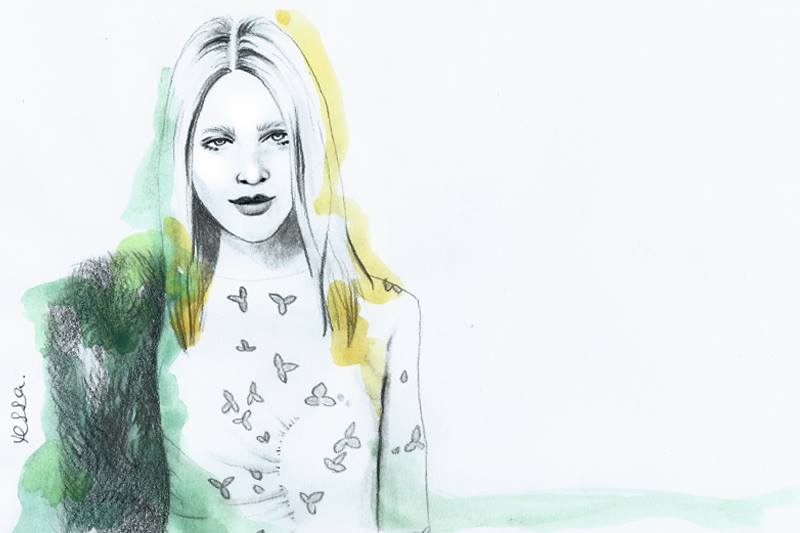 Such is the power of the high street giant Topshop that it's in house design team have a collection that shows at London Fashion Week. A mixture of inspiration was poured into the collection from the 30s siren, to the 70s groupie to the 90s ingénue. Floral prints, blue denim, chubby coats, open shirts, fur stoles, slip dresses, cuddly knits and boudoir slippers all mixed together to form this seasons Topshop girl. Famed fashion critic Suzy Menkes thought the collection was all a bit serious and safe which in a way it was, but this is what will give the collection mass appeal. Now that Topshop has come to Australia all you have to do is pop up to Sydney to make this pieces yours.
Burberry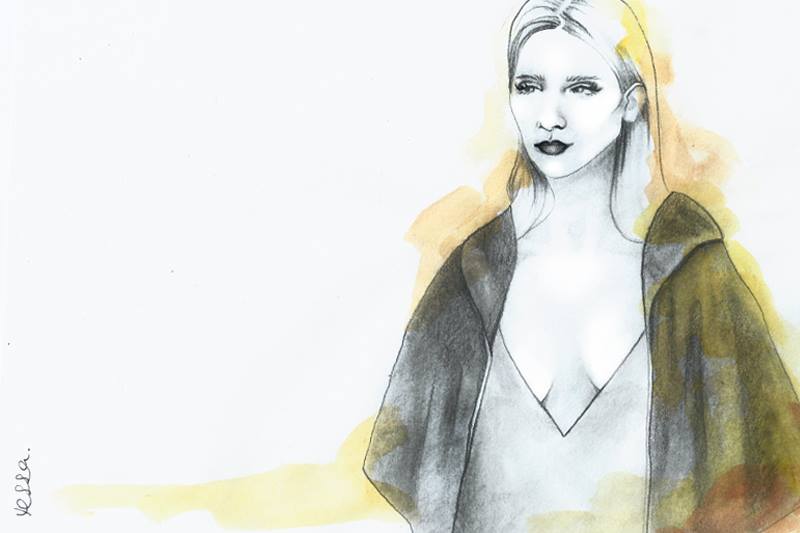 Creative Director Christopher Bailey has delivered hit after hit collection for this heritage British brand. His knack for giving rise the latest must-have accessory is near magic (replicas of the Burberry poncho are still everywhere) and this season is no different. The monogrammed Rucksack is going to be on the back of every fashionista worth her salt. Inspired by the fabric of a trench coat and military archives, it is made from technical nylon and calfskin and is reminiscent of the iconic Prada backpack. The collection had a distinct '90s feel; cuts were simple and relaxed yet made up in opulent fabrics. As a brand that specializes in outerwear (Thomas Burberry did invent the trench coat) it was no surprise that lightweight trench coats, duffle coats, biker jackets and pea coats all featured heavily on the runway. If you are feeling like a splurge you should shop the collection on the Burberry website until the 5th October.
Our Feature Artist: Mues' Muse
Tessa of Mues' Muse is a Canberra based artist with a passion for all things creative. She loves making beautiful things for beautiful people and adored the opportunity to nuzzle her way into London fashion week. If you loved the illustrations included in this article, she will be selling a limited number of prints via her Mues' Muse Facebook page.