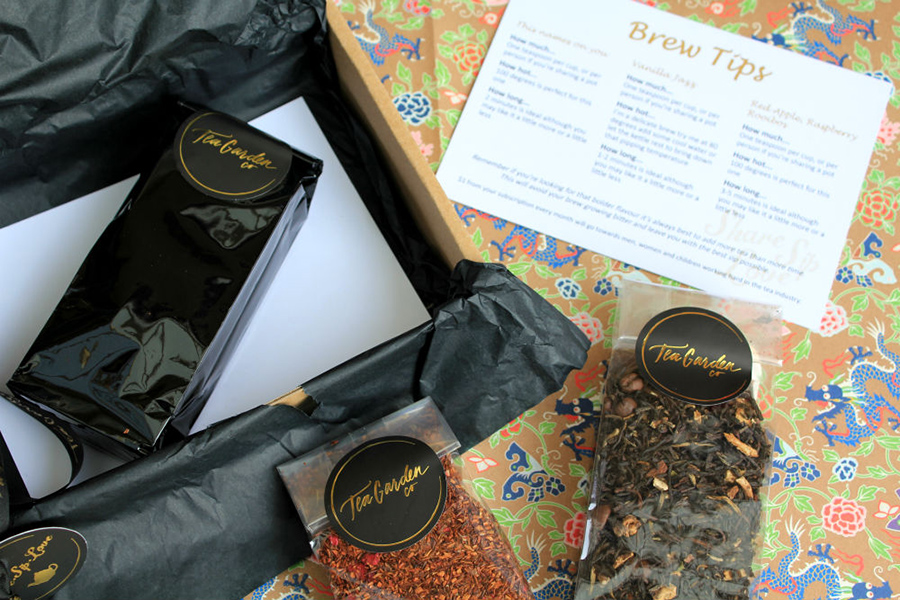 I have made it abundantly clear how passionate about tea I am (see my previous article on the subject), so when I found out there was a new tea company in town, I was very keen to give Tea Garden Co. a try.
Tea garden Co. is a bit different from your average tea buying experience. Instead of wandering into your regular tea shop and choosing your old favourite, Tea garden Co. will send you three different teas to try each month, or quarter depending on how often you need your fix. I signed up to their subscription service for monthly deliveries and eagerly awaited the arrival of my first three delicious teas.
They arrived in no time at all (especially given the current inefficiency of Australia Post) and I set about sampling all three immediately. They were so beautifully presented it almost seemed a shame to break the seal on each packet. Each hand-blended tea was fragrant, attractive and tasted divine. I won't give too much way so as not to spoil the surprise when your own package arrives.
To find out more about this delightful new business, I sat down to chat about tea with Tea Garden Co. founder Mikhaila Pennell over a cup.
Emma: Why did you decide to start your own business?
Mikhaila: I wanted to be endlessly creative, I wanted to lead my time with work that I was passionate about.
E: What is it that you love about tea?
M: You can never know enough. At first when I started to form a real interest I was surprised by how much there is to learn. I never grow tired of trying new flavours and comparing blends, it's amazing how there can be so many variations. But what I love most is sharing a cup, whether it's with myself just taking a moment or it's with those close to me, it's always a warm feeling.
E: Why did you pick the business model that you have? Why a subscription service?
M: I like to surprise people and give them something to look forward to. We're all so busy in life I want to encourage our subscribers to take "Little Moments" and enjoy a new flavour they weren't expecting to love and just breathe. This fits perfectly with our mantra "Share.Sip.Love"
E: What can customers expect when they receive their first package from Tea Garden Co?
M: Deliciousness! We custom blend 3 new flavours to post our subscribers each month. Every delivery includes a black based tea, a green or oolong and a herbal. It's designed this way to introduce your palate to an exciting new world. You can also expect a beautiful hand packed box that is just too pretty to open.
E: If a customer loves one tea in particular, can they get more?
M: Absolutely. We are working on a new website currently that will house all of our previous blends for purchase and a very exciting step into custom designer teas. For now you can always contact us via [email protected] through Instagram or Facebook
E: How do you dream up your blends each month?
M: This part is so fun! I take a lot of inspiration from popular food trends, other blends I've seen previously and family, friends and subscriber suggestions. We recently had a one off Mother's Day box available earlier in May. This was full of ideas our tea lovers suggested on behalf of their mums.
E: What is your personal favourite tea to drink?
M: I can never go past an oolong, especially if it's a darker one but my go to cup daily is Hojicha Bancha which is a roasted Japanese green tea, it's super toasty and warm!
E: How do you see your business expanding? What's next for Tea Garden Co?
M: I hinted a little earlier when I discussed getting your hands on previous blends that tea lovers can expect custom designer blends. We are currently working on these for cafĕs around Canberra but we are heading in an exciting direction to offer all our beautiful customers the option to design their own blend that we will hand make for them. This is something we are incredibly excited about and know other tea fans will too, so stay tuned and join our party on Instagram and don't miss this!
To sign up for your tea delivery, visit www.teagarden.co